Koh Lanta is an island on the west coast of Thailand and Koh Samui is on the east. To get to Koh Lanta from Koh Samui you can buy a joint ticket which is
A bus from your hotel to a pier
A ferry to Surat Thani
Bus from Surat Thani to Krabi unload point (company A)
From unload point (company A) a pickup ride to load point (company B)
Then company B sends you in a bus to Koh Lanta with all the ppl gathered in Krabi
To get to Koh Lanta from Krabi the bus has to go 100km on bumpy roads and use a ferry twice.
This pleasure costs 900 baht and it takes 10h overall but it was worth it.

Activities
Of course we couldn't resist temptation to rent a scooter and spend whole day discovering the island. It's also a good way of hacking the tropical day time heat.
West coast
Koh Lanta is very quiet. There is a main road along the west coast which leads picturesquely through villages having scenic seaview and jungle on sides.
Villages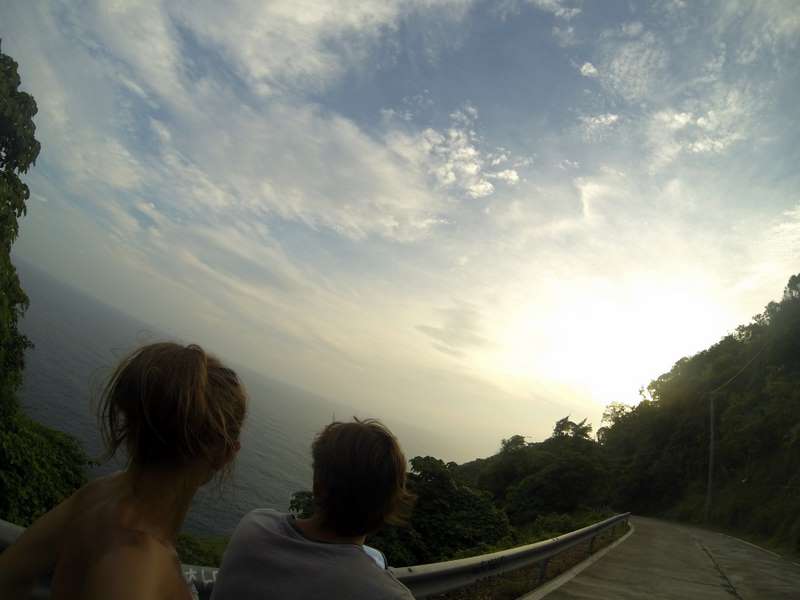 You can stop and grab some delicacies from the local food stalls.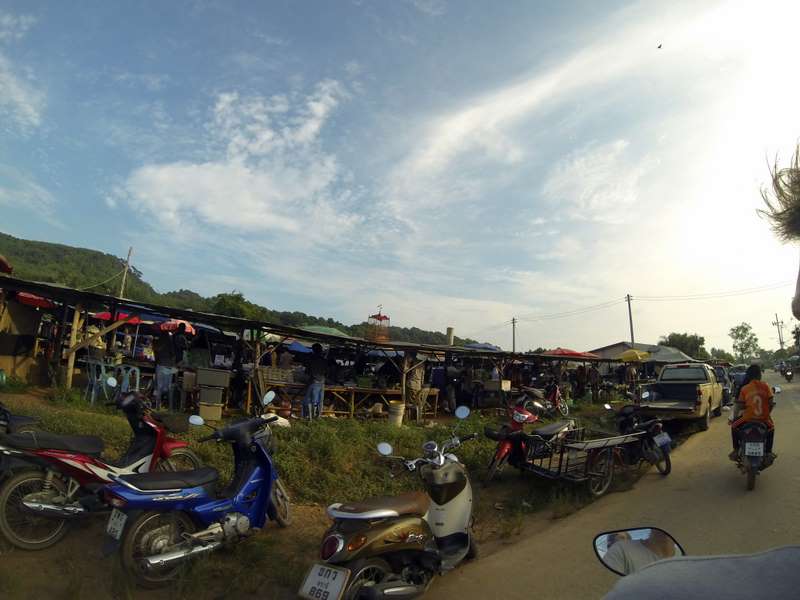 If you go to the south end of the road you will reach national park.
Monkeys
Beware of the monkeys! If you show them a white shopping bag, they are getting curious and come immediately.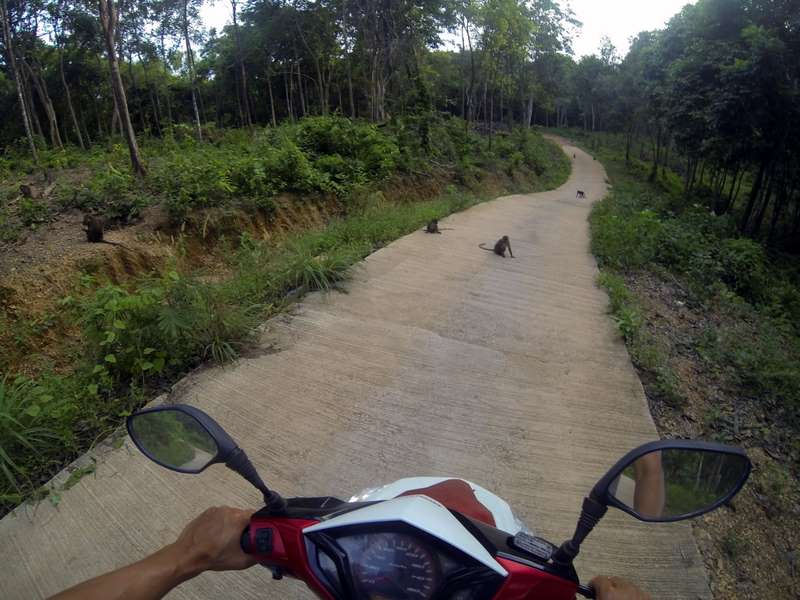 East coast
If you are as curious as these monkeys and brave enough to visit the east side of the island you will have a chance to see the local ecosystem untouched by a mass tourism. Here, lack of the beaches means lack of the tourists. And here local people live from fishing and agriculture rather than selling cheap china souvenirs and running smelly guesthouses.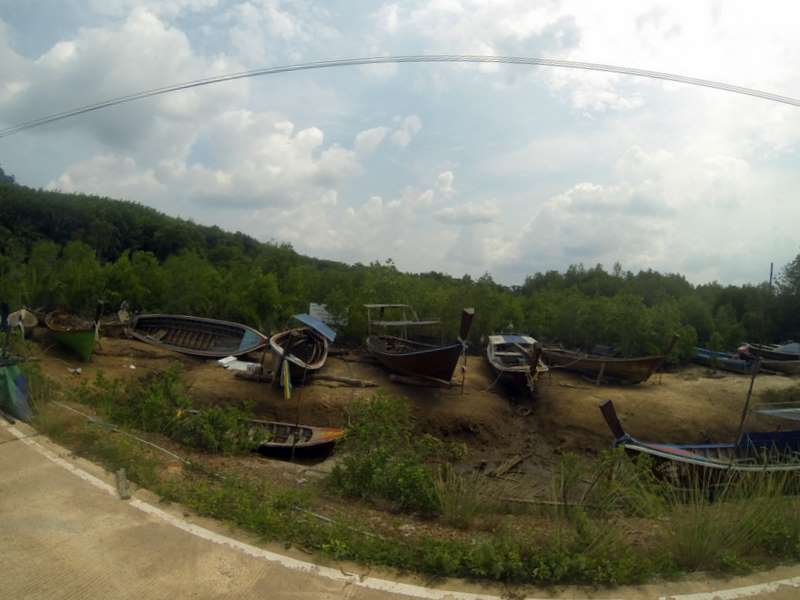 Among the east coast waterlands there is invisible network of canals and high tide allows these boats to get out to the open sea. Fishermen are living inland where sea is away from sight.
Sea gypsies
The south east corner of Koh Lanta is a home to "Chao Leh" (people of the sea). These people settled on the islands few hundreds years ago. They speak their own language and maintain nomadic, sea-based culture. Thanks to their close relationship with nauture they predicted Tsunami in 2004 and they survived it. (http://www.theguardian.com/global-development/2014/dec/10/indian-ocean-tsunami-moken-sea-nomads-thailand) Unfortunately their traditional life is diminishing. They are now facing expansion of tourism and encroaching modern world - they can't move further because of national parks restrictions and at the same time there are tourist resorts being built very close to them or sometimes they are dispossessed. This is very sad, and I've read it all after I had visited them by chance riding some road down the sea. They are not an attraction so they shouldn't be visited. No photos here!
Tsunami
Speaking of 2004, I remarked results of the big wave that wiped the buildings. These signs is quite often view nowadays.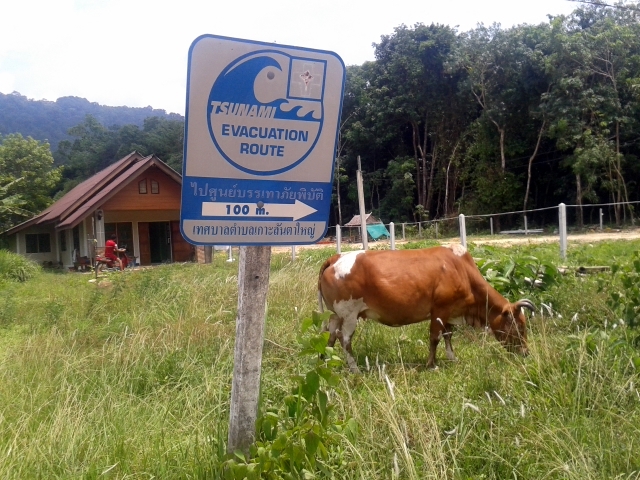 Rubber plantations
Rubber plantations are everywhere. Thailand accounts for a third of the world's supply of natural rubber. These trees will be chopped down soon to push up the rubber prices on the market. The government offers farmers 21,000 baht ($655) for every 1,600 square meters of rubber trees they chopped down. Farmers will move to oil palm plantation which I haven't seen yet!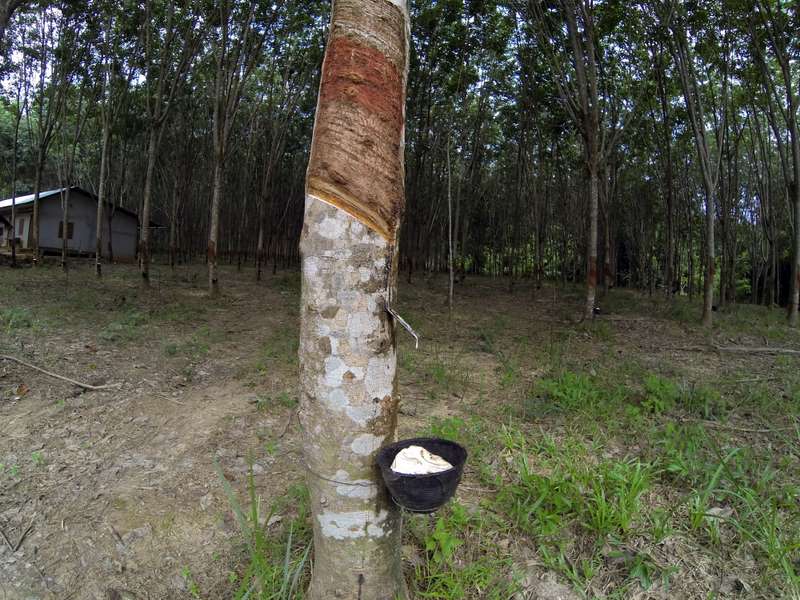 We turned into some back road to see what's there.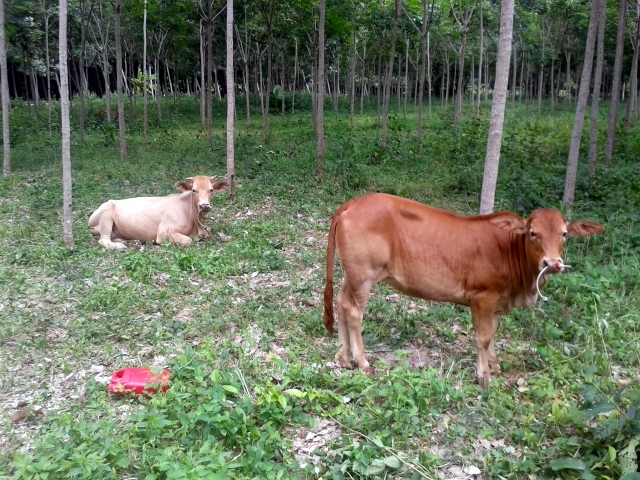 We reached a jungle and saw abandoned mango, banana, rambutan and durian trees! I picked some durian and mango from the ground as they looked mature. Evening degustation turned out the fruits were not ready yet!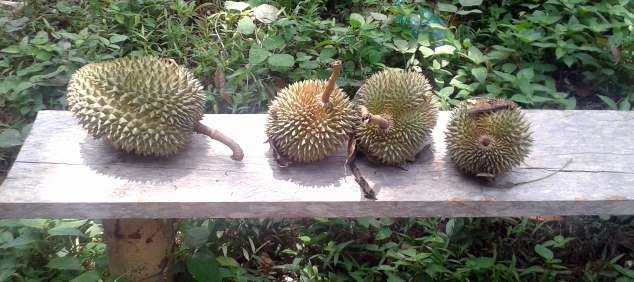 Durian is the smelliest fruit in the world. It's also one of the most dangerous fruits, because it weighs few kilos, has many solid spikes and grows 40 meters above the ground. These facts I've read after I picked them straight from the ground risking a catch of a flying durian.
Durian is called a king of all the fruits, because one fruit can feed whole village. They say few bits is more than enough. I will definitely try it in Malaysia where durians are more smelly and more disgusting than in Thailand.
Hippie island
Koh Lanta has specific atmosphere. The closest word describing it is hippie. And it's not because I spotted a hippie village on this island (which had many hilarious paintings).
The west coast is rich in beaches, more developed on north and the further south you go they are becoming more unspoilt and peaceful.


I stayed near Klong Khong Beach which was completely deserted. There were some ghostly amenities like closed resorts and few opened but empty bars.
Lack of people and beautiful sunsets results in very positive vibe. I'm happy I'm travelling in low season.
It has it's downsides as well. I think it's not a problem in high season but now some beaches were full of trash.
Trash
And forgive me here small digression.
I think the sea trash is one of the greatest humanity crimes. Have you heard of Great Pacific Garbage Patch? It's simply a floating rubbish formation in a size of Europe! How will the future ecosystem look like? Many species will extinct in years following. And there are more and more trash in the ocean every year...
Muslims
Coming back to Koh lanta. I find it dominated by Muslims! It happened we were travelling during Ramadan so getting a local cheap dinner was more difficult. But here we found this on of the best massaman curry we tried in Thailand!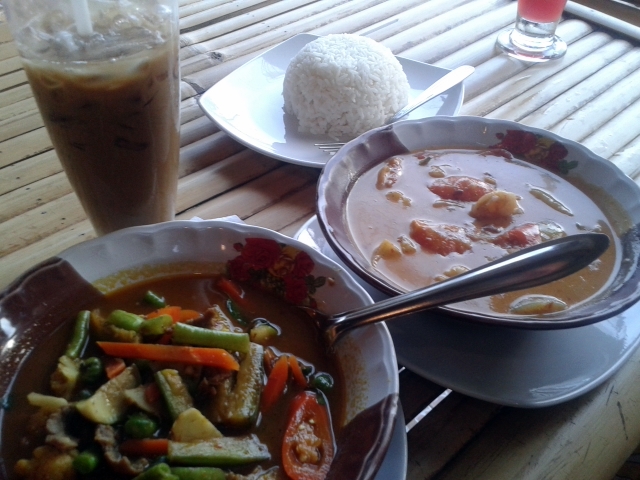 Summing up, Koh Lanta is a very modest island. It seems there isn't much to do, but if you are looking for a place to escape from mass tourism in Thailand, then Koh Lanta is a place to stay. From the time perspective I think this island fits pretty well the style of living a day-to-day life. This atmosphere makes me think of coming back here one day...
PEACE!