Intro
Koh Samui is Thailand's second-largest island after Phuket. By the way Koh means island and every island has Koh in its name, but Phuket doesn't. Isn't it interesting?
It's second island in our Thai trip, we skipped Koh Phangan well-known from full moon parties. They've even started doing half-moon parties. What will be the next? New moon party? :)
Transport
So we arrived this island using fast boat link from Koh Tao. We landed on beautiful Mae Nam beach.
We we've done the first mistake. We thought there is a bus service and it turned out there was only a taxi. Even worse, we missed the cheap taxi and only the expensive one has left. We tried to bargain and we ended up with 400 bahts (£8) for 20km trip to Lamai Beach. That was 100 baht more than we paid for the bungalow here!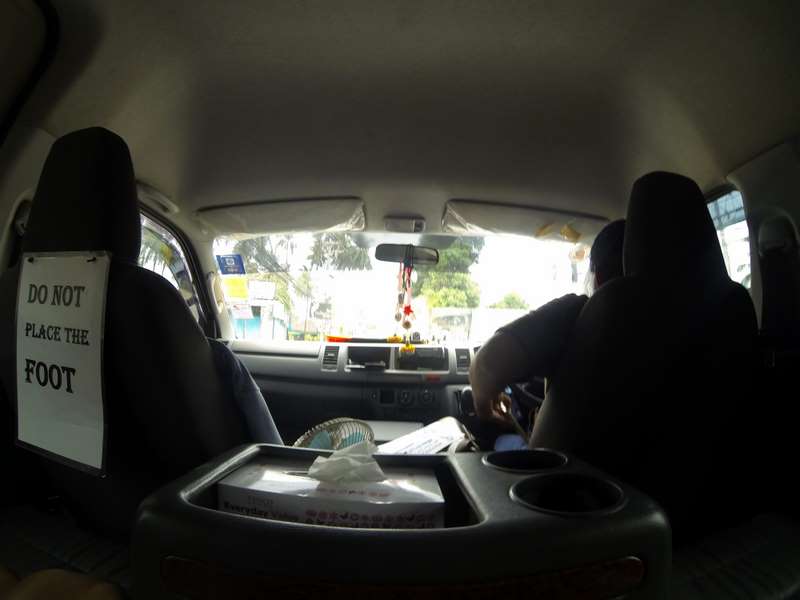 Thereafter we learned the cheaper way of transport is to catch Songthaew on the road

Accommodation
Finally we landed on Lamai beach. On a beach literally.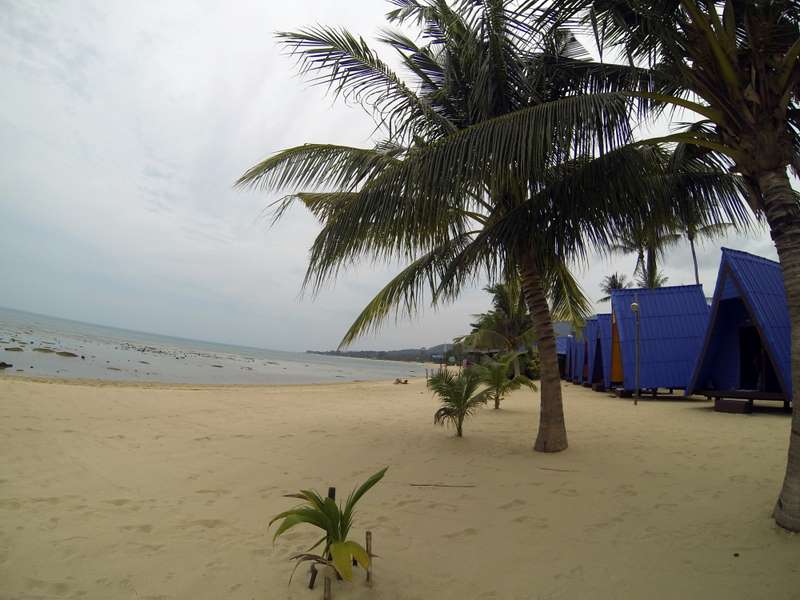 I recommend to everyone these A-shaped bungalows. The night stay costs about £5 and you have a sunrise view early morning. They are called New Hut Bungalows. I don't recommend their restaurant tough, and the stuff seems to ignore your smiles and hello's.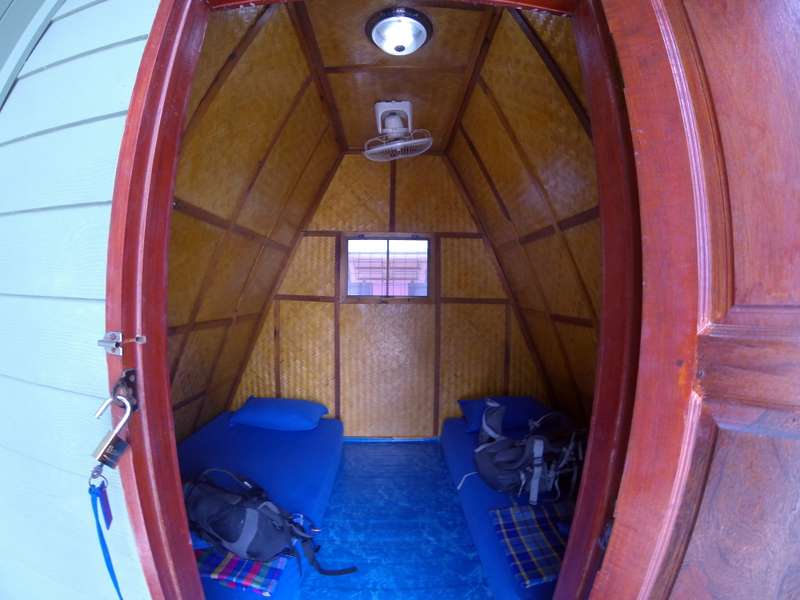 Activities
The next day we rented a scooter for 150 baht (£3) to see the island. You can ride around the island in one hour. We've been riding all day long and we paid for the fuel only 100 baht.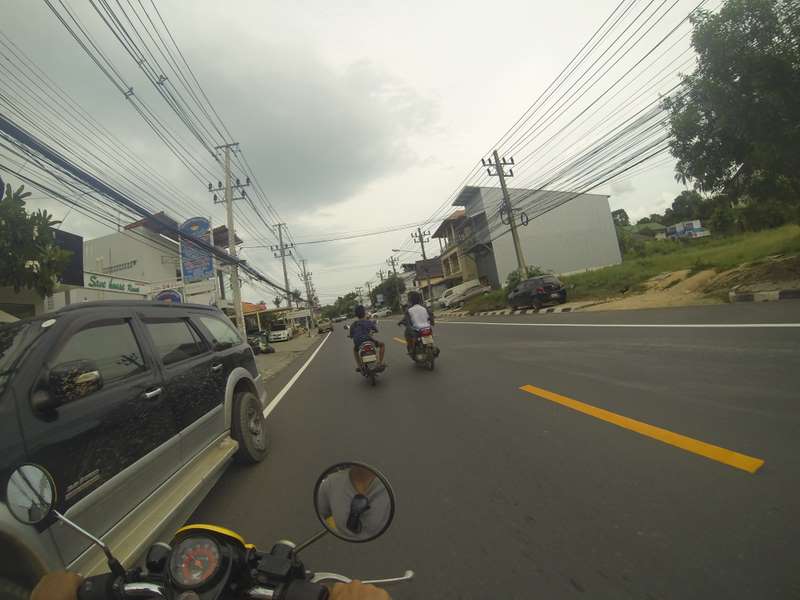 From interesting but less-known places I recommend seeing a deserted beach which we discovered after turning into some back road.
There is a steepy road through a jungle at the end of which you will be see this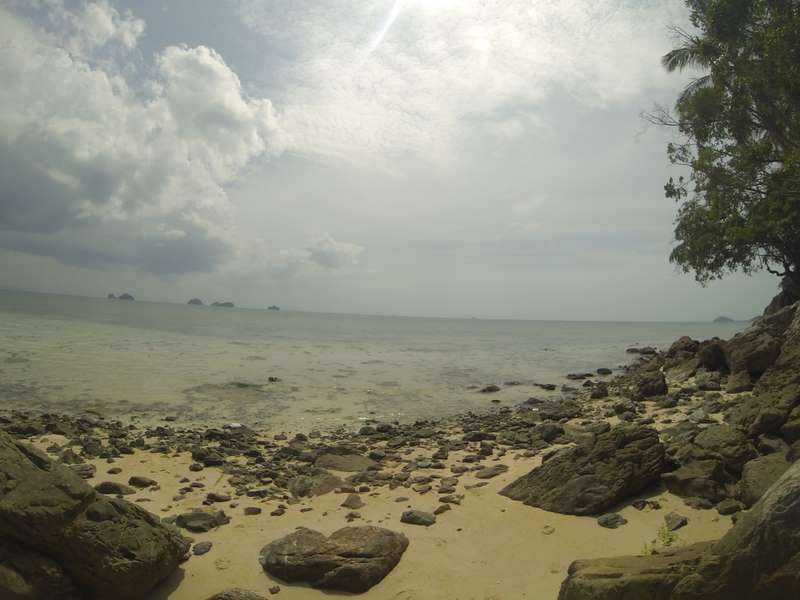 There was only jungle around so no single human being within kilometers. And the water was more than 30°C!
Any water sports here?!
Fairly speaking there is not much to do on Koh Samui. Of course you can always rent a boat to see nearby small islands but it's expensive. I read on the internet Samui is perfect for windsurfing. I was trying to rent a windsurfing gear and I was looking for two days overall (of course not all the time). I was asking in different villages and I was even given some hints but I found nothing.
That's difficult to understand to me. So many tourists are visiting this place, I even heard from some hotel's receptionist that she was asked so many times about windsurfing but she couldn't help. And there is no a single place to rent equipment?!
That's why I'm planning to create an app to help people find these spots and rentals.
Food
We tried some local fruits. My apologies for stock photos but I was to hungry to document everything.
Rambutan
It's very sweet and easy to open. It has seed inside it. Our favourite fruit.

Mangosteen
More sour than Rambutan but taste is nice.

Lady Finger banana
Cheap alternative to 'european' bananas. Still sweet but taste is different. They may have seeds inside.

Lunch from a plastic bag
We were curious of the locals' food. We saw fried insects, but eating them was the last thing I thought of. So we bought two plastic bags that supposed to look like a chicken sauce and some green leaves with prawns soup. For the content of this photo we paid around 100 bahts (~£3)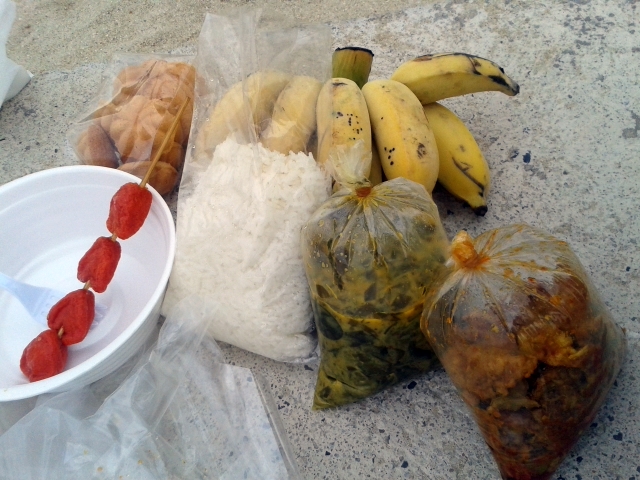 The red balls on the stick turned out to be fried fish and even tasted nice.
But the food from the plastic bags made our lips and throats burning. It was so spicy that I had feeling of drinking vodka long time afterwards. We couldn't eat everything simply because the chicken was mostly skin and bones. Some homeless beach dog (there are plenty of them in Thailand) was brave enough to swallow all the spicy leftovers.
My thoughts
Koh Samui is known from resorts, beaches and coconuts. About 30 years ago the community here was self-sufficient living from fishing and selling coconuts. Today there are about 18,000 hotel rooms on the island. There are such exotic services like pet grooming shops! Tourism is spoiling this island.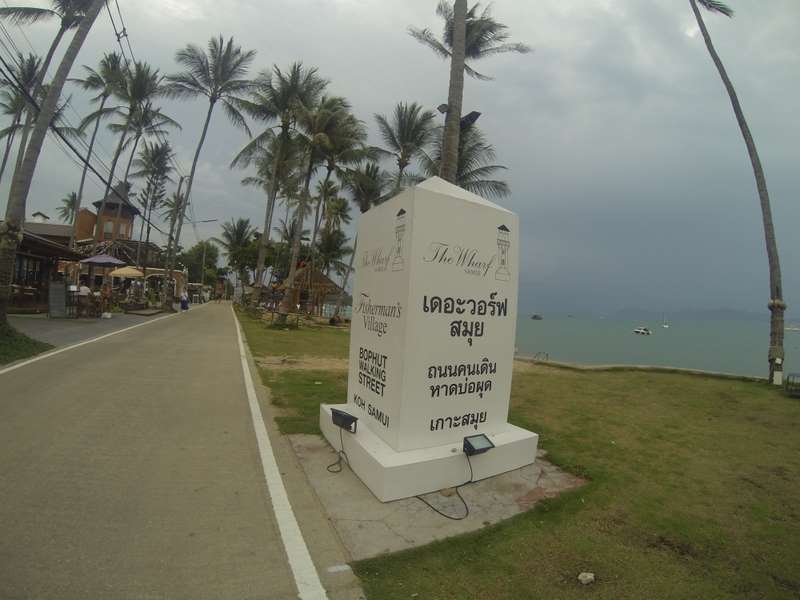 But you can see people are getting richer quickly. There is even a big shopping mall in Bophut. I think the appearance of shopping malls means there is the upper-middle class large enough.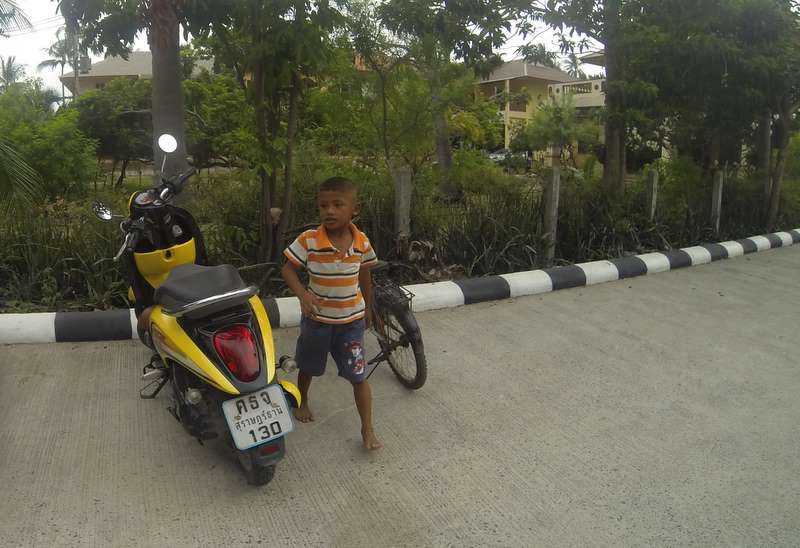 The society model on islands like this is changing fast. The micro economy market is so rich here. I saw so many niche small businesses by a road like knife sharpener, hairdressing tools shop and omnipresent moped-bars serving lunch in plastic bags. None of them no longer exist in Europe.
I'm wondering if Thailand will save the local stores from supermarkets. In Europe big-box stores have taken most of the market shares killing a lot of small businesses and leaving people unemployed. I haven't seen any unemployed Thai yet.
I spent 3 days on Koh Samui and 2 days would be enough. Beaches are everywhere in south Thailand and this island doesn't have a lot to offer more than that.
What's funny, this island has taken both our sunglasses and we are now blind in this tropical sun!